That's it! You got a brand, a fantastic T-shirt and an amazing online shop to start selling! You are ready to take the world by storm and perhaps also eager to become the next successful entrepreneur of this century.
We agree it's a fantastic feeling and a dream (almost) coming true until you realise that sales are not coming in as expected. Tears and despair may creep in at that very moment and make you doubt your products or worse; down see yourself. Stop it! Although you might be tempted to hire the best marketing guru, the good news is that you can remediate the situation yourself, in 5 super easy steps:
1. Like and Share Teamonite's Post featuring your products
With these 2 clicks, you can spread the message to your friends and family on Facebook, Instagram and WhatsApp at the speed of light. Make them your ambassadors by asking them to comment, like and share the post too! Add the FB link.
2. Tag Names in the comment box of Teamonite's post or your shared post
By tagging the names of your contacts with an engaging selling message, not only will they get a notification but so will their friends too. This creates the perfect snowball effect to make you even more visible.
3. Create your own post
Ok! This tip requires slightly more effort but we guarantee it's worth it.
A typical post has great content (WHAT, WHY, HOW) and an eye-catching picture.
The content:
WHAT are your products/services?
Be direct and simply state your offer
Use pictures to showcase your offer
WHY should they buy your product?
Be original and explain the concept behind your design. People love to know the story behind the products they are buying.
Build desire around the product with its uniqueness, high quality, affordable price and short delivery.
Nothing new for you that butterflies are attracted to colourful flowers. Well, make your pictures as attractive as them with beautiful photoshoots, background colours and text.
HOW can they buy your product?
Simply copy your product page URL and paste the link to the post.
You can also share the product directly from your product page followed by your text on WHAT and WHY. That's the best call to action!
Warning: Be short and concise. People are lazy these days: they do not read but scan text.
If boring or too long, they will simply skip it.
Get inspired with the example below: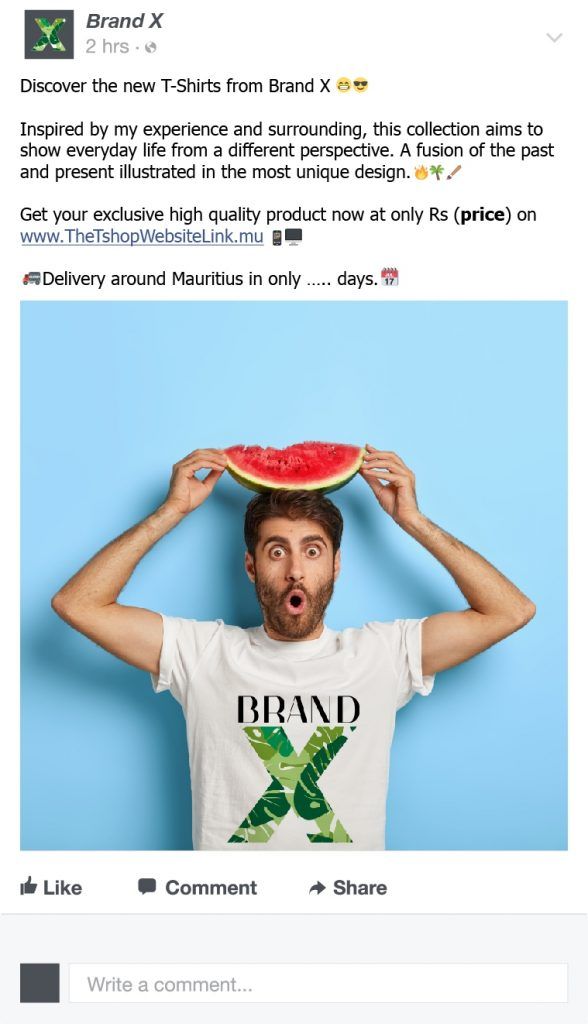 4. Wear your merchandise
Your best ambassador is YOU. Wear your product in public and show the world how great it is! This is also a wonderful opportunity to engage with potential future customers so that they get to know you and your products. Be sure to attend events and take millions of pictures for your future posts.
5. Make your inner circle your first buyers
There cannot be a better and more faithful fan club than your close family and friends. Get them to buy your products and make them spread the word.
If you read this far, this means that you have all it needs to make your first sales.
So ready, get set, SELL!
Stay tuned for more tips.